Can pets be a deal breaker in a relationship?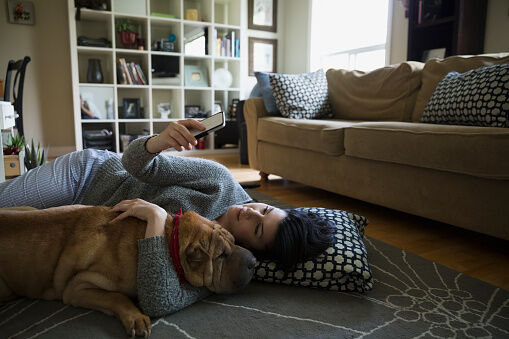 Not liking dogs can be a huge issue in a relationship with a dog lover.


(Bolde.com)
HIS OBSESSION WITH HIS DOG IS ACTUALLY PRETTY OBNOXIOUS.
I'm not a heartless person. I understand the companionship animals offer their owners, but when you're obsessed with your pet to the point that you're basically treating it like a human, it's gone too far. My boyfriend even sends out holiday cards with pictures of himself and the dog on it. It might sound cute but it's not when you realize that he'd rather put an animal on there than his girlfriend.
HE ACTS LIKE I'M EVIL BECAUSE I DON'T WANT A DOG SNIFFING MY CROTCH.
I'm not totally anti-animal. I grew up with them my whole life. My parents have a 10-year-old dog named Chopper and I used to feed stray kittens when I was a kid. I'm not saying animals don't deserve love and care or anything crazy, I'm simply saying that I don't want his (or anyone's) dog sniffing my crotch or begging for my dinner.
HE REFUSES TO ACCEPT THE FACT THAT ANIMALS ARE GROSS.
The worst part for me is when a smelly animal (normally a dog who weighs more than I do) jumps up on me and licks and sniffs my entire face with its wet nose. My boyfriend always said that his dog was "giving me kisses" but I don't want them. That thing has just been licking its own junk—why do I want it licking me next?
HE DOESN'T CONTROL THE DOG AT ALL AND IT'S REALLY ANNOYING.
I hate it more than anything when I go to someone's house and they let their dog jump all over me while standing there doing nothing. Instead, the owner will insist that the dog loves me and act like I should be glad that it's basically tackling me to the ground. I don't appreciate it. My boyfriend lets the dog basically inhale my face when I walk in the door and it totally ruins my mood, especially since he knows how much I hate it.
HE BRINGS THE DOG ON OUR DATES. YES, SERIOUSLY.
Not only did he bring his dog on our first date, but the second and third as well. At first I thought it was cute because he probably thought I loved dogs like everyone else and was trying to win me over. Unfortunately, I had to eventually speak up and let him know that I'd prefer our dates to be just for the two of us. He still holds that against me to this day.
HE LETS THE DOG SLEEP IN THE BED AND I HATE IT.
You know what really ruins the mood in the bedroom? When your boyfriend's dog is perched on the edge of the bed staring into your soul. My boyfriend either doesn't notice or tells me to ignore it, which is pretty hard and I shouldn't have to do. What's even worse is that he lets the dog sleep in between us and it basically takes up the whole bed. The dog has his own bed right next to ours for a reason but you wouldn't know that since he's never in it.
THE DOG'S HAIR LITERALLY COVERS MY CLOTHES EVERY SINGLE DAY.
I like to dress nicely occasionally and it becomes very frustrating when all your clothes are covered from top to bottom in fur. He has lint rollers for this purpose but they don't work 100%. My boyfriend tells me I'm being overdramatic about it and that my boss won't care if I have some dog hairs on my clothes, but I care! Is it so wrong that I take pride in my appearance?
IT HOWLS IN THE MIDDLE OF THE NIGHT FOR NO REASON AND DISRUPTS MY SLEEP SCHEDULE.
Moving in with my boyfriend was hard enough, but what I didn't know was that it was going to be even worse because of the damn dog. It howls in the middle of the night whenever it hears trains or cars go by, waking me up in the process. Frankly, I don't care why it's making noise—I just need it to stop.
NOW MY BOYFRIEND WANTS A KITTEN AND I'M PRETTY SURE I'M GOING TO HAVE TO DUMP HIM.
I'm sorry, but absolutely not. The house already smells like wet dog—do we really need to add the smell of ammonia and cat crap into the mix? Animals do deserve love, but I'm just not the one to give it to them. I think it's fair to say that if anyone has to go, it's going to be me.
Link: https://www.bolde.com/boyfriend-might-break-dont-like-animals/

Jake and Woody
Want to know more about Jake and Woody? Get their official bio, social pages & articles on Kix 104!
Read more