Selfie sticks are becoming an issue!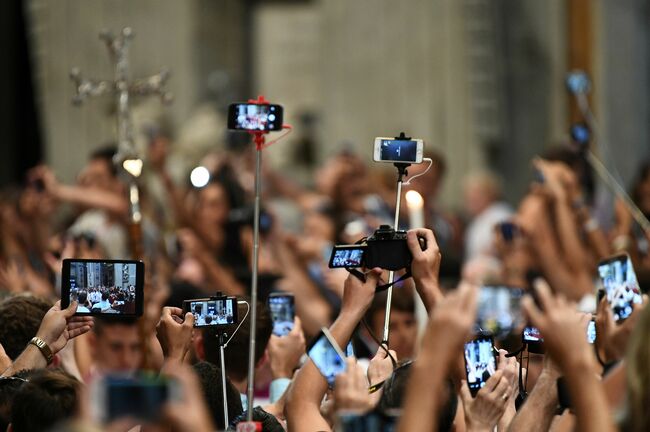 It seems many huge tourist destinations are fed up with people constantly taking photos of themselves with a selfie stick and have put it on their list of banned items. If you're planning to bring one on your next vacation, you may want to pay attention.
Other places that have banned selfie sticks include:
Disney parks – That's right, as much you'd love to use that selfie stick to take a family photo you're going to have to stop and ask a stranger to do it, because Disneyland in California, Paris, Hong Kong, Tokyo, DisneyWorld parks, Disney Quest, Disney Sea, and all Disney water parks don't allow them.
Spots in Rome

– The Colosseum in Rome says no to selfie sticks, as does the Vatican museum and the Sistine chapel.
In the UK – Several tourist destinations in the UK are selfie-stick free, including some museums, Westminster Abbey, the Tower of London, St. Paul's Cathedral, the National Gallery and Buckingham Palace. And don't expect to bring them with you to concerts either, since the O2, and Emirates and Wembley Stadiums both ban them.
Other European spots

– In France, the palace of Versailles doesn't allow selfe sticks for "security reasons," while the Van Gough museum in Amsterdam and the Albertina art museum in Austria also forbid them, as does the Running of the Bulls in Pamplona
In New York

– Sure you can use that selfie stick all you want in Times Square, but not every place in the Big Apple welcomes them. Several museums ban them, including the Met, the MOMA, the Guggenheim and the American Museum of Natural History, and if you plan to take in a Yankee game leave them at home because they are a no-no at Yankee Stadium.
Other U.S. spots – A lot of other tourist destinations in the U.S. are asking folks to leave the selfie sticks at home including the Smithsonian in Washington, DC, the Art Institute of Chicago, the Museum of Fine Arts Boston, the Getty Center in Los Angeles and the Seattle Art Museum.
Festivals

– While you may think festivals are prime spots for selfies, you'll have to be doing it without a stick at many of them, with Coachella and Lollapalooza banning them, as well as Comicon in San Diego, and even the Kentucky Derby.
Source: Mashable

Jake and Woody
Want to know more about Jake and Woody? Get their official bio, social pages & articles on Kix 104!
Read more