What is he thinking while "cuddling"?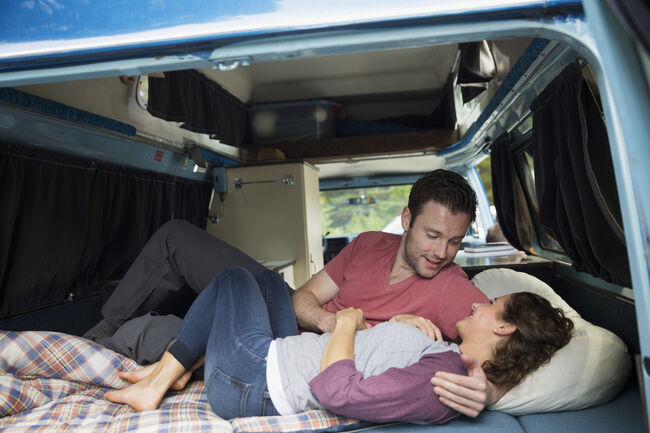 In romantic comedies, couples in love always snuggle up and spend the night wrapped in each other's arms. But in reality, it's not easy to stay entwined like that and still be comfortable. So when your man is cuddled up next to you, here's what he's really thinking, according to a real guy.
No matter what he says, some part of him is thinking about sex - He might say he just wants to cuddle, but he wouldn't turn you down if things escalated.
He's really not that comfortable

- He's probably just hanging in there for your sake, but no one's arm is supposed to be bent at that angle and supporting weight for that amount of time.
His arm's asleep - Have you been laying on his arm for more than 10 minutes? Then it's tingling for sure.
He's been balancing on the edge of the bed or couch

- He'd never let you know, but he's been teetering on the edge so you can be comfortable. Say it with me, awww…
As soon as you fall asleep, he's rolling over - He just has to wait for you to nod off before he can stretch out and relax.
He may be holding his phone just out of sight

- You thought he was really into "The Bachelor" too, but he may be flicking through Instagram while holding you.
He likes cuddling, too - It might be sweaty and uncomfortable sometimes, but your sweetie does like snuggling up and being close to you.
Source: Cosmopolitan

Jake and Woody
Want to know more about Jake and Woody? Get their official bio, social pages & articles on Kix 104!
Read more