Things that you need to know when getting over an ex!!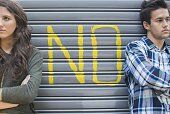 Keep in mind that you'll find someone else who makes you feel this way!


It might seem like a good idea to get closure on a situation, but the reality is, there's not a whole lot you can do to make moving on easier unless you just START moving on. It can be tough, so here are some things to keep in mind to help you get over your ex:
Yes, you will love/date/have sex again.
Lean on your friends but not for TOO long.
There's no time limit on how soon you have to be over someone.
It's totally fine to hate your ex for a minute.
It's okay to sever social media ties with them until you fully move on.
Keeping tabs on them, even occasionally, is really not good for you.
It's not your fault. Some relationships just don't work out.
No drunk communication with the person!
Don't take your wrath out on their new boo.
Your worth is not tied to another person.
Sometimes you can't stay friends, and that's okay.
There are plenty of things you should keep in mind when you're going through a rough breakup and don't think you'll ever get out. You can read the entire list HERE. And you can go out and get yourself a pint of whatever ice cream you want, because you deserve it!
Source: Cosmopolitan

Jake and Woody
Want to know more about Jake and Woody? Get their official bio, social pages & articles on Kix 104!
Read more