Blind Date horror stories!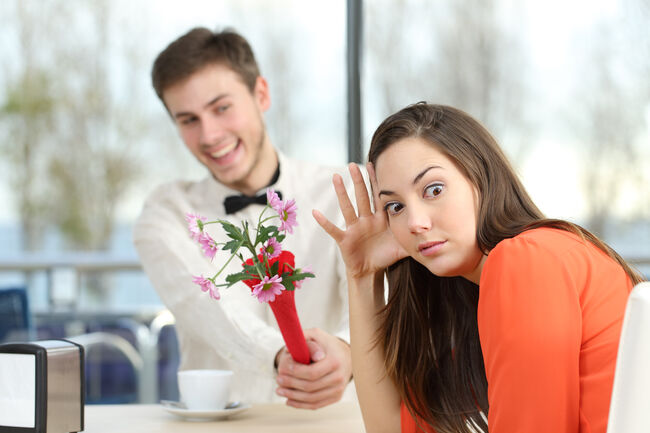 Being set up on a blind date can be a risky proposition. Sure there's always a slim chance you may find the love of your life, but more often than not you'll be subjected to an excruciating experience that you'll likely regret.
Well, a new UK survey, which could easily translate here, has folks sharing their worst blind date stories, and after you hear the you may not ever agree to go on one again.
Bad blind date stories include:
"A girl of 30 turned up with her mother and within 10 minutes, they were talking about marriage. I only stayed for 20 mins and said something urgent just came up and left."
"A much older woman than I expected turned up and her false teeth fell out!"
"I arrived to find my blind date was in fact my sister."
"Throughout the meal my date kept looking over my shoulder. After telling me that it wasn't going to work out between us, she promptly got up and went to chat up another lad at the bar. They soon left together."
"My blind date ate leaves from the doorway and the contents of the ashtray on the table."
"Had a date with a girl and she turned up with her sister and expected me to pay for the both of them. I said bye and walked away."
"My friend set me up on a blind date with someone from his work. He took me to a restaurant and when he saw the menu, he asked me to leave with him as the vegetables were cheaper at a place down the road. I didn't speak to my friend for ages."
"I met a girl in a local pub as arranged, and she brought her parents along with her. It was so uncomfortable, weird and awkward. Why would anyone bring their parents with them?"
''He turned up wearing his gym clothes and odd socks! They just didn't match! Very disturbing."
"He was at least 10 years older than his picture and no longer had hair. He was just old, I never saw him again."
Source: Daily Mail

Jake and Woody
Want to know more about Jake and Woody? Get their official bio, social pages & articles on Kix 104!
Read more