NO WAY Headlines of The Day New survey reveals just how desperate some people are for a raise


There's no doubt most people would be happy to find out their office is giving them a raise, but it turns out some people are so desperate for a bump in their salary they're willing to give up a lot to get one.
A new poll asked 1,238 employed Americans how much they would be willing to give up for an immediate 10% raise and you may be surprised by some of the answers. For example, 34.98% of Americans would actually give up their right to vote in all elections for life, while 9.13% would give up their child's or future child's right to vote in all elections for life.
Other things folks would do for a raise include:
88.61% would give up watching "Game of Thrones" for life
73.42% would give up all alcoholic beverages for the next five years
53.55% would give up all social media accounts for the next five years
50.4% would work one day every weekend for the next year
47.74% would give up all caffeinated products for the next two years
43.86% would give up exercise for the next five years
40.06% would give up dental care for the next five years
18.9% would give up access to health insurance for the next five years
17.93% would give up Social Security benefits for the next two years
15.27% would give up all of their vacation days for the next five years
12.2% would break up with their partner or significant other
5.33% would eat a single tide pod
Source: Lend EDU
Master's Golf bans "Dilly Dilly"
To combat disruptive fan behavior at golf tournaments, the Masters has banned spectators from yelling the Bud Light catch phrase "Dilly Dilly," Bryce Ritchie of the golf site Bunkered.co.uk reported.
Ritchie wrote that someone working security for golf's first major of the year, which begins Thursday, told him that personnel at host site Augusta National Golf Club in Georgia received a sheet of prohibited words and phrases that should result in a spectator's immediate ejection if shouted.
One of them is "Dilly! Dilly!" from Bud Light's successful ad campaign that features a king and his subjects using the phrase as an affirmation or toast of sorts.
Security guards later confirmed to Golf.com that "Dilly Dilly" is indeed on the list.
For years, fans have yelled "baba booey," "in the hole," and other exclamations after players shoot. "Dilly Dilly" recently became part of the gallery lexicon.
Of course, the beer brand turned the ban ― Masters' officials did not immediately respond to a HuffPost request for comment ― into a marketing opportunity. It sent 1,000 "Dilly Dilly" shirts to the tournament.
We're thinking those will be plenty loud enough.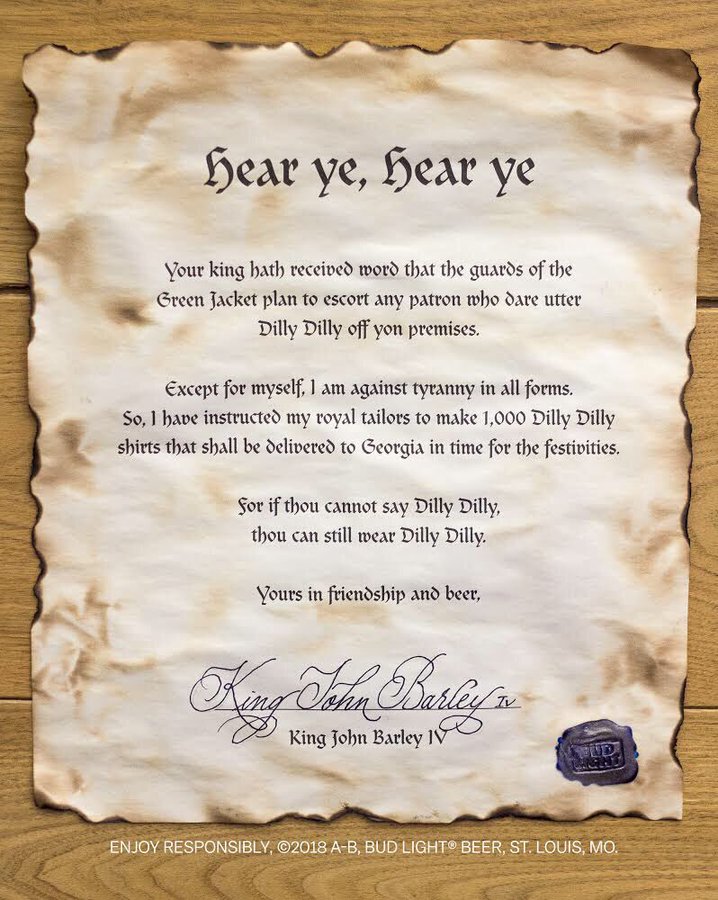 Bud Light

✔

@budlight

Our King weighs in on the Dilly Dilly ban.

3:52 PM - Apr 3, 2018
This story has been updated with confirmation of the ban by Golf.com.

Jake and Woody
Want to know more about Jake and Woody? Get their official bio, social pages & articles on Kix 104!
Read more