You did what after the break-up?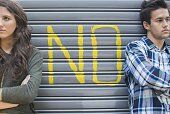 Redditors share their worst post-breakup mistakes.


Breakups can bring out the worst in people. Something about getting your heart broken can make people do things they'd never normally do, sometimes as an attempt to win back their ex, and it hardly ever works. But as embarrassed as you may be about a time you really took the low road post-breakup, it's probably not as bad as you think. When someone on Reddit asked "What's the worst thing you've done after a breakup," the people of the Internet didn't disappoint. Here are some of the most cringeworthy answers.
Scorched Earth Strategy:
Scrubbed the toilet with his toothbrush
Texted her a bunch of "Game of Thrones" spoilers
Sent nude pics to her new bf and everyone on his friend list
Had sex with one of his hot family members
Mistakes Will Be Made:
Got a post-breakup haircut that was WAY too short
Partied away $10K and almost lost her job
Let the ex live with her for three months after the breakup, rent free, and letting him cry about the girl he likes at work who it turns out, doesn't actually like him back.
Calling the stranger his girlfriend left him for and crying to him, while the girlfriend was still in the room with the new guy
Being that weird, creepy stalker ex boyfriend who just randomly shows up everywhere his ex goes.
Now That's Just Cold:
Making up a story that her ex's new girlfriend bullied her in the school bathroom. The girl got suspended and everyone started calling her "lunatic" but it was all based on my lies.
Telling everyone her ex cheated on her with his brother because they had a "weird relationship."
Peeing on the T-shirt her ex asked her to return and not washing it, then enjoying seeing his new girlfriend wearing it later that day and having "no regrets" about it.
Source: Elite Daily

Jake and Woody
Want to know more about Jake and Woody? Get their official bio, social pages & articles on Kix 104!
Read more