Nashville News: Albums that changed the landscape of country music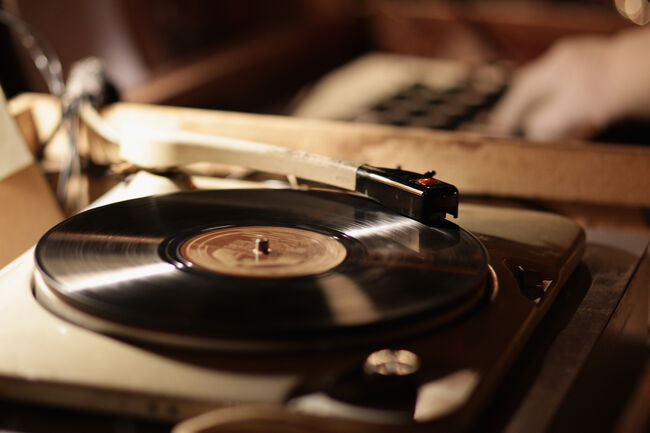 With their very first albums, these 10 country artists made a statement. From Johnny Cash in 1957 to the Dixie Chicks in 1998, Connie Smith in 1965 to Chris Stapleton in 2015, these albums changed the game.
Whether they ushered in a new sound, brought tradition back to the genre, filled a gap in the market or were simply a huge and unforgettable force, these 10 debut albums have left an indelible mark on country music. Read on to learn more about each of them -- and share your picks for the genre's important debut albums in the comments section.
SUN RECORDS
Johnny Cash, 'With His Hot and Blue Guitar' (1957)
It's strange to think of a time when the name Johnny Cash wasn't synonymous with the phrase "country icon" -- but everyone's got to start somewhere! On Oct. 11, 1957, Cash's debut record, With His Hot and Blue Guitar, featuring the now-timeless songs "I Walk the Line," "Cry! Cry! Cry!," "So Doggone Lonesome" and "Folsom Prison Blues." It was the first full-length record released by Sam Phillips' Sun Records label.
Cash's distinct, deep and gravelly voice carries the album's songs, as do the laser-sharp lyrics. There's minimal instrumentation, and nothing flashy is needed; the unhurried pace of Cash's first tracks continue to draw listeners around the world. He'd go on to sell over 90 million albums worldwide.
RCA VICTOR
Connie Smith, 'Connie Smith' (1965)
Smith's eponymous debut studio album was released on RCA Victor Records in March of 1965. She became widely known for her flawless vocals; in fact, Dolly Parton once noted there were only three real female singers around — Barbra Streisand, Linda Ronstadt and Connie Smith. "The rest of us," she said, "are only pretending."
Connie Smith, a 12-track project, includes Smith's debut single, "Once a Day" -- the first female-released debut country single to hit No. 1; until 2012, that song held the record for most weeks spent at No. 1 by a female country artist. Smith certainly arrived to country music with bells ringing: Connie Smith launched Smith's career, which included 11 Grammy Awards nods, 31 charting albums and election into the Country Music Hall of Fame. Her debut record includes six songs written or co-written by Bill Anderson.
RCA NASHVILLE
The Judds, 'Why Not Me' (1984)
The Judds, the mother-daughter duo comprised of Naomi and Wynonna Judd, released their debut full-length studio album, Why Not Me, on Oct. 15, 1984. In 1992, the disc was certified double platinum.
In the late 1980s and early '90s, the Judds were the country music duo. That's when their hits including "Mama He's Crazy," "Why Not Me," "Girls' Night Out" and "Love Is Alive" absolutely dominated radio airplay, and they won a number of high-profile awards at the CMAs, ACMs and Grammys. (Why Not Me helped them kick off their six-year reign as the ACM's Top Vocal Duo). Brent Maher -- the producer of all five of the Judds' studio albums -- says that, even three decades later, he can appreciate "how well the records seem to stand up.
"People tell me there's a timeliness to the Judds' music, superseding any trends," Maher tells Songwriter Universe. "I'm proud to have worked with Wynonna and Naomi to create music which lives on and on."
WARNER BROS. RECORDS
Randy Travis, 'Storms of Life' (1986)
On June 6, 1986, Travis dropped his major-label debut album, Storms of Life. It came during the rise of country's neo-traditional style of music, and Travis was one of the artists who turned the genre's proverbial tide back to a more classic sound. The shift from the outlaw movement to the neo-traditional movement, coupled with Travis' baritone vocals, was a winning combination.
This album was the start of a storied career for Travis. The single "On the Other Hand" became the star's first No 1 hit, and "1982," "Diggin' Up Bones" and "No Place Like Home" were a few of the singles that gained Travis a massive fan base -- so much that Storms of Life has been certified three-times platinum.
MONUMENT
The Dixie Chicks, 'Wide Open Spaces' (1998)
1998 was the year of the Dixie Chicks: That year, the country trio released Wide Open Spaces, which both country and pop fans received with their arms wide open. Martie Maguire, Emily Robison and Natalie Maines saw their first single, "I Can Love You Better," reach the Top 10, and the following singles, "There's Your Trouble," "Wide Open Spaces" and "You Were Mine," topped the country charts.
The Chicks sold more records than all country groups combined in 1998; as of 2003, Wide Open Spaces had sold 12 million copies, earning it diamond certification from the RIAA. The album garnered the trio Best Country Album and Best Country Performance By a Duo or Group With Vocal trophies at the Grammys; Top New Vocal Duo or Group and Album of the Year at the ACMs; and the Horizon Award, Vocal Group of the Year, Music Video of the Year and Single of the Year at the CMAs.
BMG
Sugarland, 'Twice the Speed of Life' (2004)
Sugarland's debut album, Twice the Speed of Life, was their only project as a trio, comprised of Jennifer Nettles, Kristian Bush and Kristen Hall at the time. When the album was released on Oct. 26, 2004, it was clear that Sugarland were going to march to the beat of their own drum -- a punchy, incredibly energetic, contemporary and pop-influenced beat.
Each of the 11 tracks on Twice the Speed of Life had at least one Sugarland member writing or co-writing, and the record's debut single, "Baby Girl," was written by all three members. That song, as well as the single "Something More," peaked at No. 2 on the charts. Sugarland's infectious sound was eagerly embraced by fans: The album itself landed in the Top 20 on the all-genre Billboard 200 and at No. 3 on the Top Country Albums chart. It went on to be certified three-times platinum by the RIAA.
BIG MACHINE LABEL GROUP
Taylor Swift, 'Taylor Swift' (2006)
When Swift was just 16 years old, she released her self-titled debut album on Oct. 24, 2006. All 11 songs were written or co-written by the singer, who at the time was a high schooler with big dreams and even bigger talent. She had a knack for claiming her insecurities, pouring her heart out in appealing and relatable ways and crafting incredibly catchy -- yet also insightful -- lyrics. At the time, Swift filled a void in country music; she wrote and sang from the eyes of a female teenager. Never before in country music had an artist appealed to so many teens and tweens -- and Swift was simply being herself.
Taylor Swift's singles "Teardrops on My Guitar," "Our Song," "Picture to Burn," "Should've Said No" and "Tim McGraw" are all certified at least platinum, with "Our Song" certified four-times platinum. Taylor Swift itself is certified seven-times platinum.
UNIVERSAL REPUBLIC RECORDS
Florida Georgia Line, 'Here's to the Good Times' (2012)
Florida Georgia Line's debut studio album, Here's to the Good Times, is aptly titled: It doesn't try to be insightful or political or really anything but ... well, a dang good time. It's the music you associate with summertime, party vibes, tailgates and pickup trucks driving down backroads -- and, yes, it pretty much kicked off the "bro-country" trend.
Released on Dec. 4, 2012 by Republic Nashville, the 11-track record became the sixth best-selling album of 2013 in the United States. It was certified double platinum thanks to singles including the diamond-certified "Cruise" and the multi-platinum "Round Here," "Get Your Shine On," "Stay" and "This Is How We Roll." "Cruise" was the first country song to ever nab a diamond certification.
MCA NASHVILLE
Sam Hunt, 'Montevallo' (2014)
When Hunt came onto the country music scene, first as a songwriter and then as an artist, he ushered in a new sound. His music blends R&B, hip-hop and pop, but keeps the storytelling dynamics on which the genre's always prided itself.
Montevallo dropped on Oct. 27, 2014, and went on to have five hit singles: "Leave the Night On," "Take Your Time," "House Party," "Break Up in a Small Town" and "Make You Miss Me." The response to Hunt's first single was so great that Hunt simultaneously reached No. 1 on Billboard's Top Country Albums, Hot Country Songs and Country Airplay charts -- the first country artist to achieve that feat in 22 years. Hunt co-wrote all 10 tracks on the record, which has been certified double platinum.
MERCURY NASHVILLE
Chris Stapleton, 'Traveller' (2015)
Stapleton released Traveller on May 5, 2015, producing a throwback country-meets-Southern rock sound. Among scads of perfectly polished and ultra-catchy country-pop albums, Stapleton's offering stood out -- in a good way -- with no-frills production by Dave Cobb and Stapleton.
Though it received very little radio airplay, Traveller still found its way into the ears of country music fans -- especially after . It was recognized as the 2015 CMA Album of the Year, won Best Country Album and Best Country Solo Performance at the Grammy Awards and earned Album of the Year and Song of the Year at the ACM Awards. Traveller has been certified three-times platinum.
THE BOOT

Jake and Woody
Want to know more about Jake and Woody? Get their official bio, social pages & articles on Kix 104!
Read more