Guys, the ladies love it when you......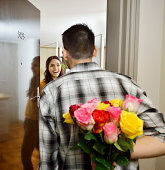 Guys, the ladies kind of like it when you do these things!
(Storypick.com)
In a time like this, chivalry seems obscure more often than not. We are afraid to even date, let alone get into a relationship, simply for the fear of getting hurt, fearing that only the worst of all scenarios await us. We do not expect simple heartfelt gestures, rather are always dreading what might go wrong the next minute, what might open unforeseen wounds.
Picking you up for a date
Whether in a car or just to walk you till the cafe next door, picking up a girl from her doorstep for a date never goes out of style.
Holding doors open for people
Whether it's you he's holding the door ajar for, or another person in front of you, it's adorable.
Guarding you with their body, just in case
Whether to shield you from the sudden rain or while navigating through a large crowd, it gives you the message that he's there for you.
Offering their jacket, or holding yours for you to get in
The warmth of his heart is sure to touch you along with the warmth of the jacket!
Giving you flowers, when you are least expecting it
It doesn't have to be a big bouquet or even a rose. But flowers never fail to melt you, do they?
Offering you food or drink from his share
Sure, you have your own portion, but sharing IS caring.
Spending time with you doing what you like
It could be watching Notting Hill for the umpteenth time (even if he doesn't like it), or going shopping with you.
Standing up for a woman when she is in need of support
Be it you or a random stranger, nothing is hotter than a guy standing up for a lady.
Being on time
Being punctual is a trait that never goes out of style, be it turning up for your movie date, or simply for an appointment.
And keeping promises, no matter how small they are
Even if it's as small as calling or texting when he said he would, keeping promises shows that you're a priority in his life.
Not mansplaining, ever
Exchanging knowledge is one thing, but being condescending to a woman is the last thing that a girl would want from her guy.
Giving heartfelt compliments
Whether it's about the way she talks or anything else good about her, or even to the old lady passing by, compliments are uber cool, always.
Not beating around the bush
A guy who is open about his feelings never fails to win a girl's heart.
Being respectful to people
Being respectful to a woman, or any person, even if it's the cab driver or the waiter, shows that the man has a heart of gold. Because good things, like chivalry, should never die out.

Jake and Woody
Want to know more about Jake and Woody? Get their official bio, social pages & articles on Kix 104!
Read more