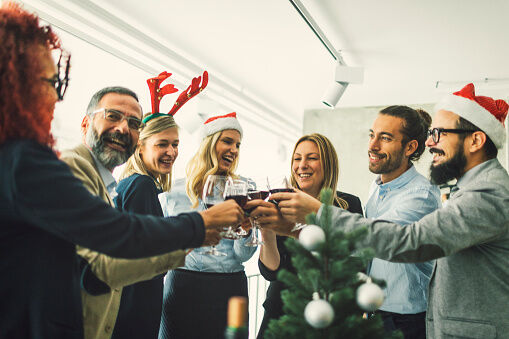 The rules that will help you at the office party.


(Wall Street Journal, 2012)
Here are our favorites from Jason Gay's 23 Office Party Rules as published on Wall Street Journal.com.
The article was originally published in 2012. There is a lot of timeless wisdom here. And it has been updated for 2018.
It's OK to be the first person at the company holiday party. Just don't be the last person at the company holiday party.
Stop asking what's on the buffet tray. You've been going to the same company holiday party for the past seven years and it's always been cheese and mushroom.
The company holiday party is not the moment to try Jagermeister or walking on your hands for the first time.
The fancier the Christmas party; the more likely it is that the company is going broke.
(Rephrased) Do not volunteer to be the DJ.
Do not give the boss a 90-minute, detailed lecture on all of the things you would do differently if you were in charge.
Everybody sees you hanging out all night at the shrimp bar eating shrimp. You're not that slick.
Dancing at the office holiday party is a bold move—
Dancing by yourself is too bold a move.
(Rephrased): If your company holiday party is a karaoke party, do yourself a favor. Get a co-worker, take six weeks of lessons and learn a duet. It will be a smash hit, you will both become office legends and will probably get promoted the next day.
If you're showing co-workers videos of your pet, it's time to hail a cab home.
(Rephrased) You can expense the cab home.
(Rephrased) Don't expense alcohol stolen from the restaurant.
No, you don't need to go to the underground disco after the company holiday party. That's for the employees 25 and under.
(Rephrased) Whoever says they are only going to drink water . . . will be drunk by 9:15.
Link:
http://online.wsj.com/article/SB10001424127887324024004578169442404457384.html?mod=e2t

Jake and Woody
Want to know more about Jake and Woody? Get their official bio, social pages & articles on Kix 104!
Read more